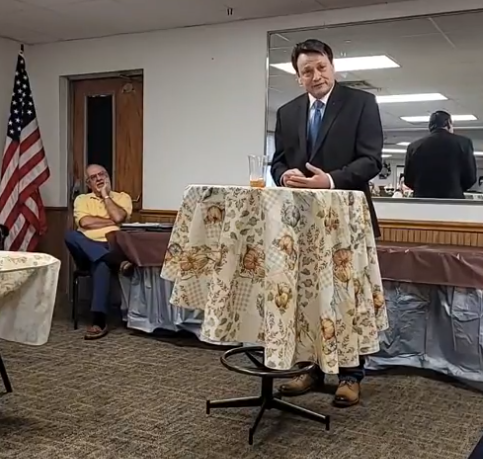 Recently on October 25, 2023, County Commissioner Ernie VanGilder made false and half truth statements at a luncheon hosted by Delegate Phil Mallow who backed him up on his claims and gave him his support.
The false statements pertained to a lawsuit filed by former Delegate Guy Ward. The lawsuit basically stated that on April 26, 2023, the Marion County Commission willfully violated the Open Government Meetings Act by placing on their agenda and approving the hiring of Mr. Matthew Offutt to the position of Director of Media and Events. This position was a new position and by the way it was handled and filled it left no doubt that it had to have been created outside of any public meeting according to the suit. The suit was settled out of court on September 27, 2023, with the County Commission agreeing to pay all the court costs and legal fees.
In VanGilder's speech to a very small crowd at Phil Mallow's luncheon, he claimed that former Delegate Guy Ward filed his suit AFTER Matt Offutt's employment was terminated. This is not true! Delegate Guy Ward filed suit on August 15, 2023. Matt Offutt was terminated on August 18, 2023. It's interesting that he was dismissed just a few days after the suit was filed. One might speculate that the suit had something to do with the dismissal. Regardless, the fact is Delegate Ward did not file suit after Mr. Offutt was terminated as Commissioner VanGilder claims.
Here's a copy of the complaint filed in Circuit Court with the date up in the top right hand corner to disprove the false claim by Ernie VanGilder: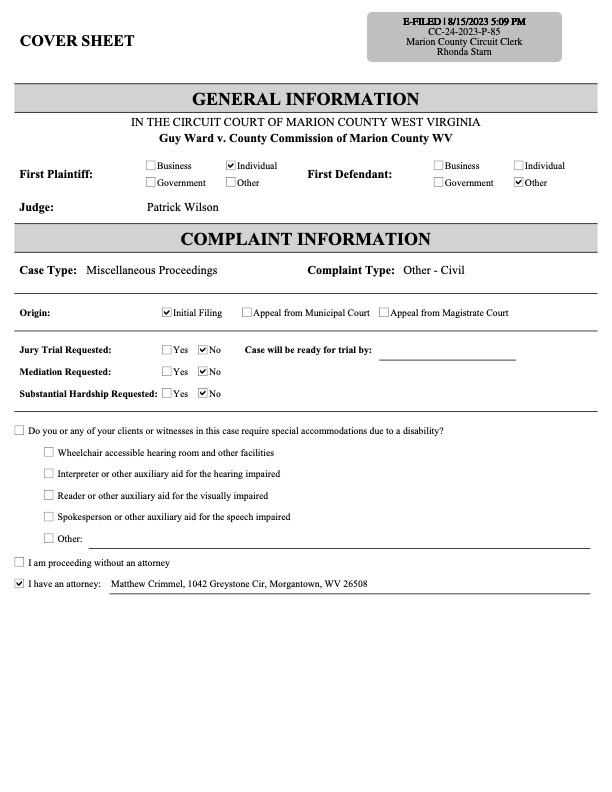 There is no excuse for VanGilder not to know this because when he was served a notice of the lawsuit, the date that the complaint was filed in court should've been on the papers. Regardless, it was public knowledge that the suit was filed before Mr. Offutt's employment was terminated. Rumors started circulating almost immediately in the Courthouse. It was first reported in the news by WDTV Channel 5 on August 16th and then by West Virginia News on August 17th. It had extensive coverage in the Times West Virginian on August 20th. So, why would VanGilder make a false statement as to when the suit was filed? Is he trying to hide something?
VanGilder also claimed that they had budgeted for the position of Director of Media and Events two months earlier before they hired for the position. That's not exactly true. They may have budgeted for it in their 2023 – 2024 budget when they laid the levy on April 18th, but that didn't go into affect until July 1, 2023. Whenever you make a change in your budget during the current fiscal year, you must do a revision.
Sources say that they hired Matt Offutt on April 24th, two days before they approved the position on April 26th and over two months prior to the new budget going into place. In order to hire Matt Offutt on April 24th, a budget revision should've been made at a public meeting. However, if you check all the agendas from January 1st up until that date in 2023, you'll find that there are no budget revisions on any of them. When asked, former Commissioner Randy Elliott said that there were no budget revisions made to accommodate this position the first six months of fiscal year 2022 – 2023 while he was still on the Commission.
Anyone who has been in office for as long as VanGilder has, should know how the budget process works. You should always make a budget revision before you authorize the appropriation of funds. According to State Code (W. Va. Code § 11-8-26a), a budget revision must be made prior to the obligation and expenditure of funds and with the prior written approval of the State Auditor. This was never done.
There was a budget revision made the same day that the position of Director of Media and Events was created along with the approval to hire Mr. Offutt. That might've been done to cover the cost of this new position at least until the new fiscal year began but then again, a budget revision should've been made at a prior meeting, which would've alerted the public of the new position. The whole point of having a Government Open Meetings Act is to have transparency and be open to the public. Regardless, this claim that VanGilder made about a budget revision was not part of the petition filed with the Circuit Court. However, Delegate Ward might've mentioned that he didn't see any budget revisions for this new position in an interview or press release before Offutt was hired, which would be a true statement because there wasn't any.
VanGilder also said that they shouldn't have settled out of court and that it was nonsense to do so. He also made the false claim that he was out voted. That's not true because he voted for annulling the Director of Media and Events Director and to negotiate an out of court settlement in a special meeting of the Commission on September 7th. If he felt that strongly about not settling out of court, why did he vote yes?
Also, during the luncheon, VanGilder claims he doesn't charge the County mileage for travel. That's nice but, how many times does he travel long distances for the County? Sources say hardly ever.
However, he may not charge the County for mileage, but during his first seven years as a Commissioner his business (V&W Electric) charged the County $37,240.46. State Codes says the following: "§6B-2-5. Ethical standards for elected and appointed officials and public employees. (b) Use of public office for private gain. — (1) A public official or public employee may not knowingly and intentionally use his or her office or the prestige of his or her office for his or her own private gain or that of another person."
Here's a copy of the last page of nine pages of payments made to V&W Electric before the State Auditor's office put a stop to it: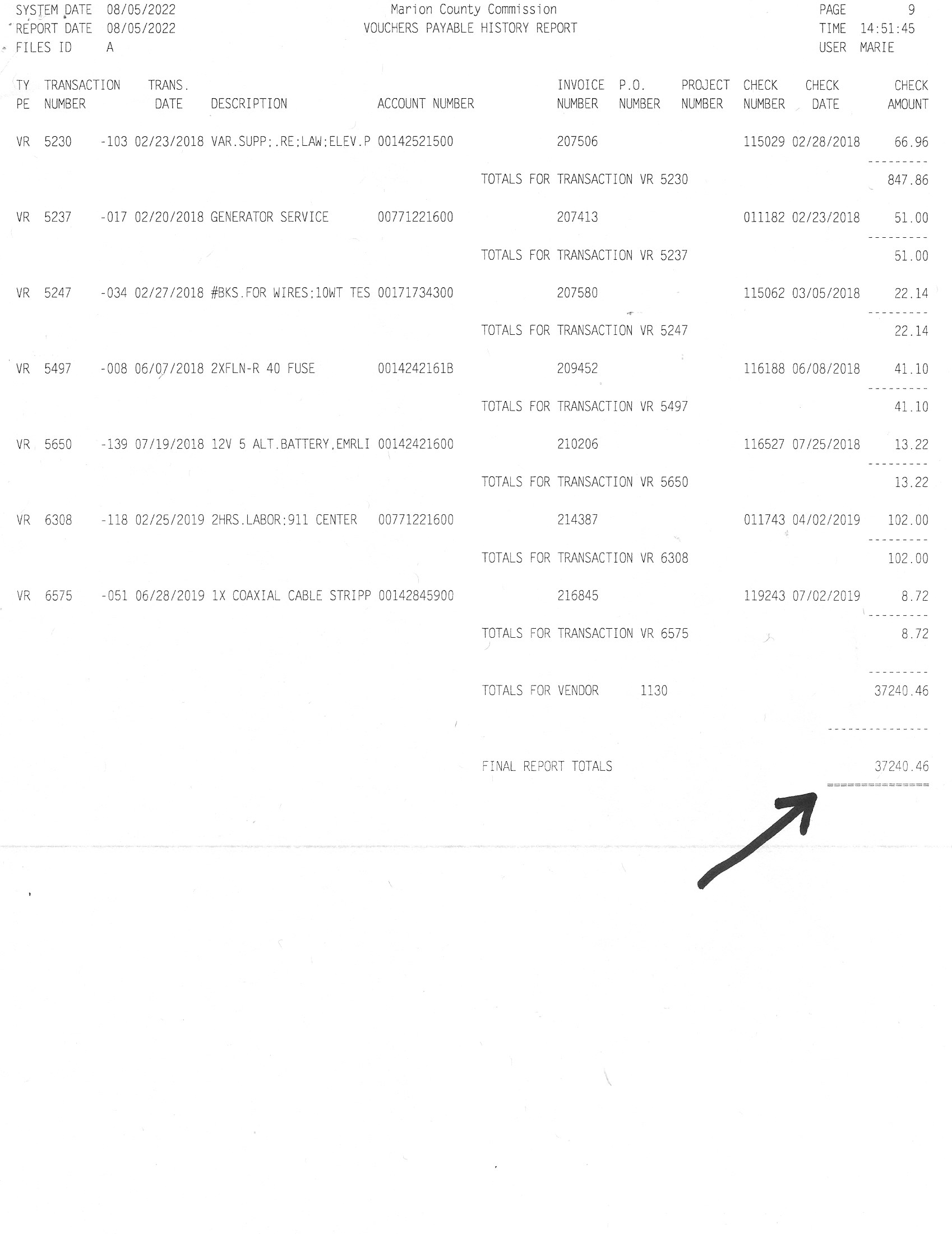 Prior to his becoming a Commissioner, the County bought very little from V&W Electric. Records from the County Clerk's office show that from 1996 through 2012, the County only spent a total of $5,396.40 at V&W Electric. That averages out to be about $338 per year over a 16-year period. However, things changed after VanGilder took office. From 2013 to 2019, the County was spending on the average about $5,320 per year at V&W Electric. An increase of almost 94%. That was until it was put a stop to by the State Auditor's office who caught it during an audit in 2019. When confronted about this, sources say that VanGilder claimed he had a waiver, but no waiver was ever produced. Spending at V&W Electric came to a halt and the County hasn't bought anything since from V&W. Of course it's now under new ownership. So, legally they could now if they wanted to.
Ernie VanGilder also claimed that there was a swamp in the Courthouse just like there's a swamp in Washington DC. "Drain the swamp" as you may know is a metaphor that means to "root out corruption." So, is he claiming that there's corruption in the Courthouse? How would he know that? Who's in this swamp? Is he part of it? Is he trying to throw us off by making this statement?
Now more questions rise. Such as, has he profited in other ways by using his position as a County Commission? Rumors have it that he has been or is being investigated by the Commission on Special Investigations, which investigates public corruption and is located at the State Capitol. Is that true? Delegate Ward knows for a fact that it is true. Who ordered this investigation? Did the County Prosecutor's office turn this case over to them to investigate? Has there been any other government agencies involved in the investigation? Why hasn't something come of this investigation? Did the investigator not find any wrong doing? Is there a coverup? The citizens of Marion County deserve to know.
In addition to the false claims made by VanGilder, Delegate Mallow made some too. One he claimed that Delegate Guy Ward said he was the only conservative Republican in the county. That is not true! Delegate Ward never said that. He has said that he was the first Republican elected to the House of Delegates in a long time but never has he said that he's the only conservative Republican in the county. That is so preposterous, that it's ridiculous.
Then he said that Mike DeVault, who was present at this meeting and showed support of Commission VanGilder too, beat him like a drum. That's not true. It was a close election.
Why does Mallow show such animosity toward Delegate Ward anyway? After all, Delegate Ward helped him get elected in 2020 by using his own campaign money to attack former Delegate Michael Angelucci. Delegate Ward didn't have to do this. In the fall of 2019, House Speaker Roger Hanshaw told Delegate Ward that the Republican Legislative Caucus knew that he could get elected back to the House because two of the Democrat Delegates, Mike Caputo and Linda Longstreth, were running for other offices. Not only did they want him back, but they wanted him to get rid of Delegate Angelucci and help get another Republican from Marion County elected, which he did as he was asked to do.
You can find a copy of the video of the Luncheon on Facebook (the false claims begin around 1:01:30).