After the incident over a poster of Congresswoman Ilhan Omar in 2019, when Delegate Mike Caputo shoved a door into a Doorkeeper and then shoved an elderly female Delegate, the Democrat House Caucus invited the Council on American Islamic Relations (CAIR) to our Capitol. Why would they do that? And, who is CAIR?
According to a letter written by Delegate Ken Hicks and signed by most of the Democrat Delegates, their reason why they signed the letter was because the Democrat Caucus felt that the poster's contents condemning Congresswoman Omar were "inappropriate, derogatory and insulting."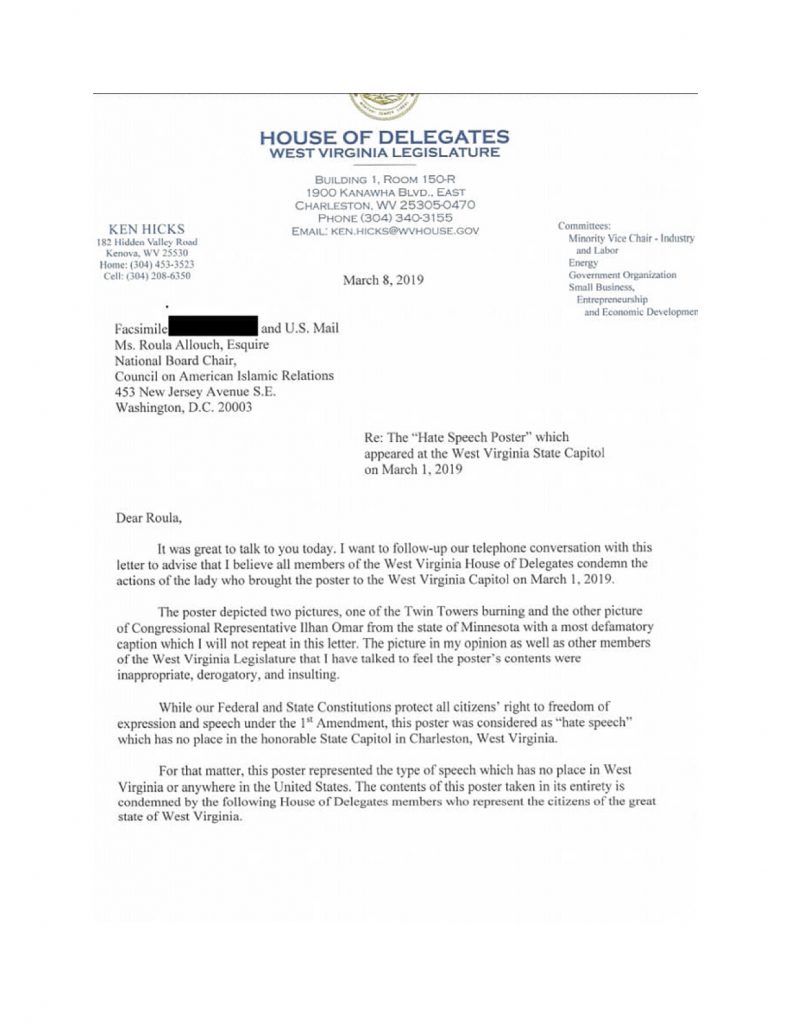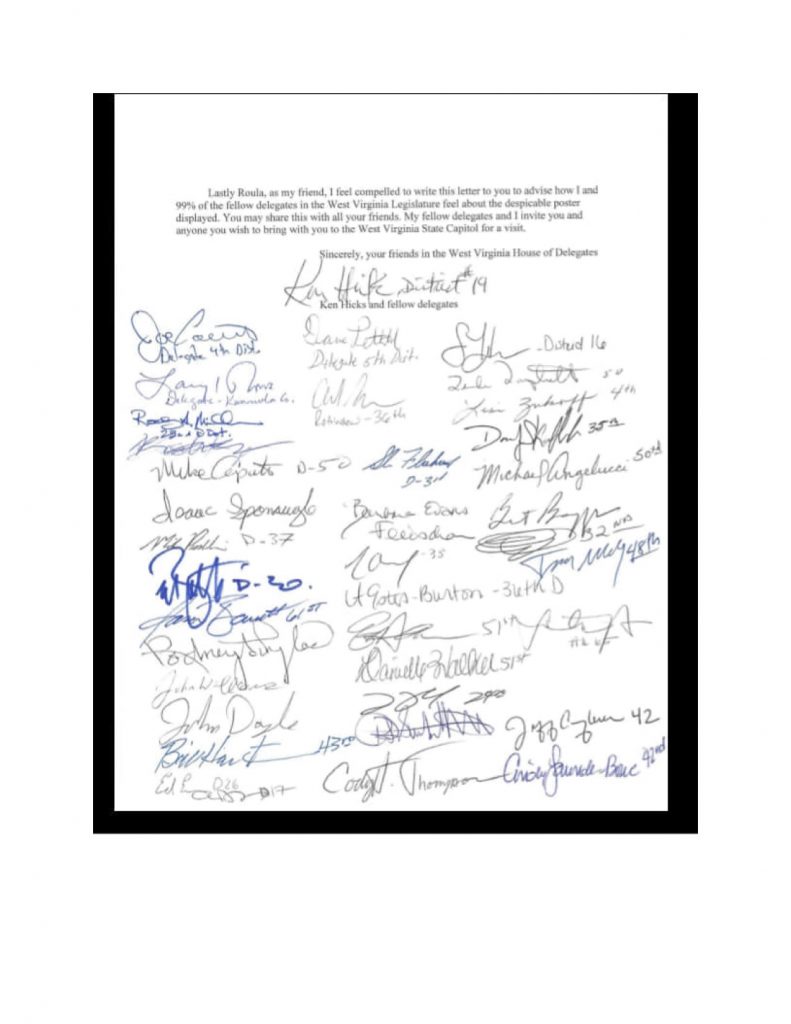 Here is a list of the Delegates who are running again for the legislature and who signed the letter:
Larry Rowe – District 36
Rodney Miller – District 23
Mike Caputo – District 50
Mike Puskin – District 37
Nathan Brown – District 20
Jason Barrett – District 61
Rodney Pyles – District 51
John Williams – District 51
John Doyle – District 67
Bill Hartman – District 43
Ed Evans – District 26
Chad Lovejoy – District 17
Dave Pethel – District 5
Andrew Robinson – District 36
Shawn Fluharty – District 3
Barbara Evans Fleischauer – District 51
Amanda Estep-Burton – District 36
Evan Hansen – District 51
Danielle Walker – District 51
Tim Tomblin – District 24
Cody Thompson – District 43
Sean Hornbuckle – District 16
Lisa Zukoff – District 4
Doug Skaff – District 35
Michael Angelucci – District 50
Brent Boggs – District 34
Margaret Staggers – District 32
Sammi Brown – District 65
Jeff Campbell – District 42
Cindy Lavender-Bowe – District 42
However, contrary to the letter written by Delegate Hicks, some people seem to believe that it's Congresswoman Omar's statements that are "inappropriate, derogatory and insulting." This was evident at a Trump Rally in 2019.
Yet, the answer to who is CAIR, is more complexed. In an article written by columnist Michelle Malkin in March of 2019 and entitled Never Forget: CAIR's Dirty Deeds, she brings into question their integrity and refers to them as a militant group. Here are some of the accusations she makes against them:
The federal government designated CAIR an un-indicted terror co-conspirator in 2007 in the prosecution of the Holy Land Foundation and others for providing support to violent Hamas jihadists.
CAIR is a designated terror organization in the United Arab Emirates who recently signed a peace agreement with Israel that was negotiated by the Trump Administration.
Federal law enforcement investigators banned interactions with CAIR to "prevent CAIR from publicly exploiting such contacts with the FBI."
Ghassan Elashi, a founding board member of CAIR's Texas chapter, was convicted of laundering money for Hamas terrorism.
CAIR works every day to silence Muslim reformers, apostates, Christians, Jews, infidel scholars, border security advocates, anti-sharia activists and investigative independent journalists, on college campuses, TV airwaves and the internet, to prevent us from exposing the truth about Islamic supremacism.
Other internet articles concerning the Council on American Islamic Relations (CAIR) tell the following:
You can find out more about CAIR at the Anti-CAIR website: https://www.anti-cair-net.org/. CAIR brought a libel suit against Andrew Whitehead, the creator of this website claiming false statements. However, the statements were evidently true because the defamation lawsuit was dismissed.
So, if all these accusations are true and CAIR is a terrorist organization, why would you write such an organization, let alone invite them to your State Capitol?
Members of Delegate Hicks' own party from his home county condemned his actions by starting a petition to censure him. The petition stated the following:
To Wayne County Democratic Executive Committee:
We, the patriotic citizens of Wayne County, WV, believe there is no place for the type of action committed by Ken Hicks in his invitation for CAIR to visit our Capitol. Furthermore, we believe no political party should tolerate this type of behavior. For our political system to work, we need both major parties to hold their politicians accountable. Both parties should be representing the values of Wayne Countians. Therefore, we insist that the official representation of the Democratic Party in Wayne County, the Wayne County Democratic Executive Committee, officially and publicly censure Mr. Ken Hicks for his egregious error in judgment–an error that ignores Wayne County values and promotes the Islamic agenda in our state to our detriment.